Address:
VU university Amsterdam
Congress venue "Auditorium"
De Boelelaan 1105
1081 HV Amsterdam
The Netherlands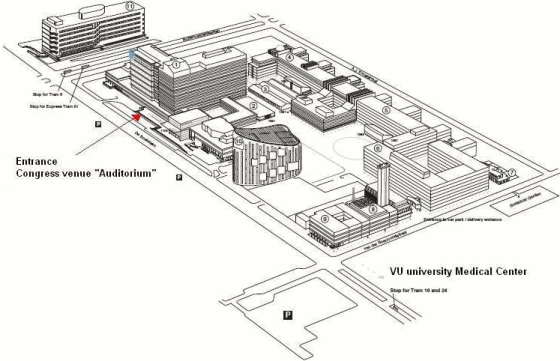 Download here:
---
Route Description:

From Central Station
metro tram 51, direction Amstelveen Westwijk (16 minutes), stop at: De Boelelaan/VU
tram 5, direction Amstelveen Binnenhof (25 minutes), stop at: De Boelelaan/VU
tram 16 or 24, direction VUmc, final stop

From Station Amsterdam Zuid
express tram 51 (1 minute), direction Amstelveen Westwijk
tram 5 (1 minute), direction Amstelveen Binnenhof
it's a 10 minute walk to the VU from Station Amsterdam Zuid

Car
The A-10 Amsterdam ring road can be reached from all directions. Follow the A-10 to the Zuid/Amstelveen exit S 108. Turn left at the end of the slip road onto Amstelveenseweg: after about three hundred yards (at the VU University hospital building) turn left again onto De Boelelaan. VU University Amsterdam can be reached via city routes S 108 and S 109.

Parking
There is a limited amount of parking space around VU University Amsterdam itself in De Boelelaan, which has parking bays, and also in Karel Lotsylaan. There is paid parking on VU Amsterdam parking lot to the right of the Hospital Outpatient Clinic. There is even more parking space on the east side of Buitenveldertselaan at the junction with Willem van Weldammelaan, within 5 minutes walking distance of VU University Amsterdam. A number of parking places for the handicapped are reserved in front of the VU University Amsterdam Main Building and within its grounds.
Schiphol Airport
Travellers arriving at Schiphol can take the train to Station Amsterdam Zuid (see 'Public transport: from Station Amsterdam Zuid).
---